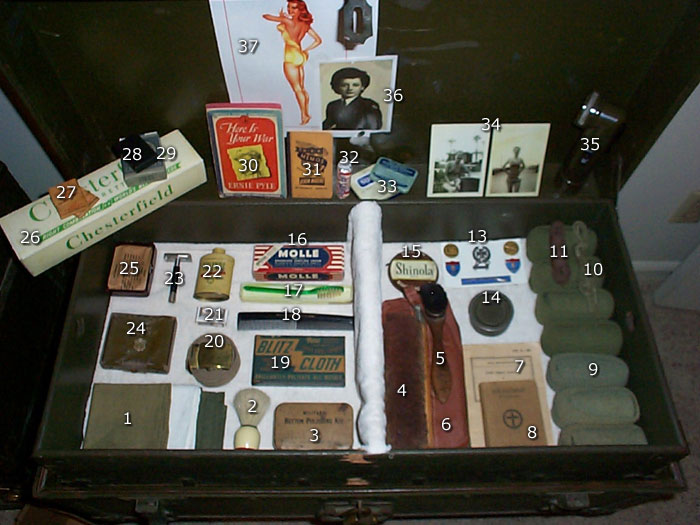 Click on item in photo to view detailed description
In the course of reenacting we all get something different out of it. I hope all of us get enjoyment out of it. In addition to pleasure, I reenact is to educate the public about the role, the duty, the service and sacrifice of the soldier past and present. I do this as a profession as well as hobby for my own enjoyment.

Even though it is my profession, I am still learning and welcome any constructive criticisms, comments or remarks. However, if you just want to show how much smarter you are than me, that you have read more books than I or point out that I have violated a Star Fleet regulation, please keep it to yourself.

My topic is the footlocker display. Seen here is an example I use for living history and educational programs. It is a balance of regulation layout and Sefton's (William Holden) from the movie Stalag 17. I need to balance what is a GI regulation layout and what the public is interested in seeing and hearing about. Not that I misled the public but living history is equal parts education and recreation.

There are several reenacting events that we get the chance to use foot lockers for barracks impressions. Some units go all out issue lay out SOPs (Standard Operational Procedures) and conduct an inspection. A pure GI inspection should only include uniform articles, field equipment and personal hygiene articles to insure the soldier has the item and it is serviceable. Many of the objects illustrated here do not fit in those categories and are unauthorized, that is hidden until after the inspection.